Investors around the world are concerned these days about the stock markets and their respective economies. The laundry list of concerns is lengthy and includes:
Global economic slowdowns, especially in manufacturing
Looming recession in the US and other countries
Bond market, and more specifically high yield, credit deterioration
Federal Reserve interest rate policy direction
Low oil prices and the threat of deflation
The Chinese stock market crash
Concerns over the big European banks
And finally, 4th quarter 2015 earnings that were at best in line with expectations
This list of concerns is long and has challenged the fortitude of investors. In 2016 both selling and volatility has increased. Because of this the financial news networks are of course fanning the flames of anxiety among investors.
In my opinion the general fundamentals of both global economies and investment markets have somewhat deteriorated

It is also my opinion that global stock markets have "already reflected" these concerns
Look at the chart below reflecting the declines of global stock markets the past 9 months: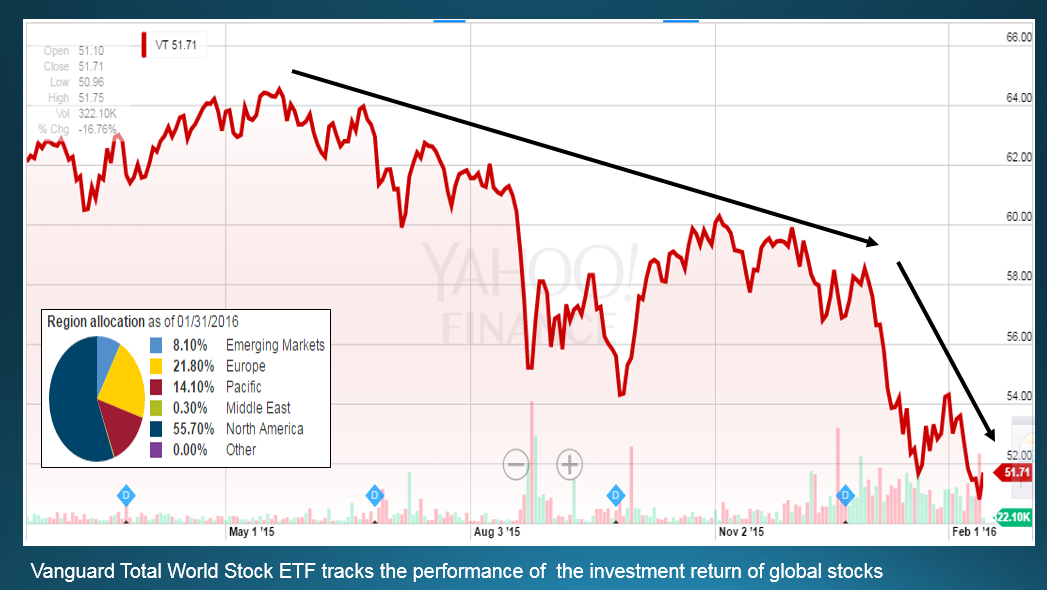 And below is a table of global indices illustrating YTD 2016 performance as of February 12th: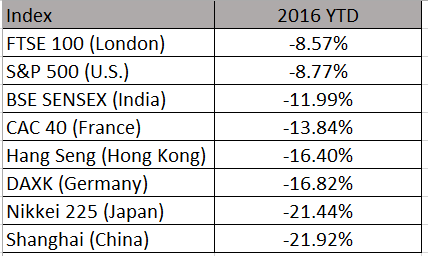 We see that global stock markets have been declining since May of 2015, and the decline has accelerated in 2016. Collectively, markets are down roughly 20% across the globe from their peaks.
The big question is where do we go from here? Are the weakened fundamentals pointing towards a global recession? Will the markets continue to cascade further? We don't think so, in fact we believe the US economy is experiencing a slowdown, not a recession, caused by declining oil prices, a strong dollar, weaker international economies and a pause in the growth of corporate profits. We also think this slowdown is more than adequately reflected in lower stock prices.
Going forward we're encouraged by recent data that point to continued expansion of the US economy. They include:
Continued housing market strength
An acceleration in consumer spending
A decline in the unemployment rate
An acceleration in wage inflation
An increase in consumer confidence
Bank lending at its strongest levels since the financial crisis
In addition, equity market valuations are much more reasonable, U.S. corporate earnings are forecast to grow again in 2016, global banking system capital measures are strong and oil just had its biggest one day rally since 2009.
The bears have had their way recently. Yes, everything is not perfect in the global economy and their investment markets, but there never is a perfect environment. As the slowdown fades and global growth resumes I believe markets are oversold and due for a rally.