In early February, volatility returned to the stock market. Investor concern over rising interest rates and the fear of inflation were to blame for an approximate 10% peak to trough market correction. In early March, President Trump introduced a new set of trade tariffs; steel imports will be hit with a 25% tariff and aluminum imports with a 10% tariff. The tariffs will begin March 23rd and this has triggered another round of investor concerns.
Not only are investors concerned, but politicians (both Democrat and Republican), US trading partners internationally, and economists are raising concerns regarding:
This is a protectionist shift from the administration
The tariffs could spur retaliation (trade war) from our foreign trading partners
That tariffs will be a detriment to US economic growth
Consumers will face increased prices due to higher cost steel and aluminum
Rising costs for businesses that rely on the metals to manufacture their products
Traditionally, tariffs have not been positive for economic growth. They are a tax on imports designed to boost US production of goods. The idea is to push up the price of foreign goods to make the US-made option more attractively priced. In this case, the President is attempting to get companies to use more US produced steel and aluminum.
For many industries the cost to produce their goods will increase due to the tariff. Examples are beer, auto, home builders, oil and gas drillers and packaged food companies who all use steel and aluminum in the manufacturing process. These companies will either be forced to absorb the costs or pass the costs on to consumers. Either way, it's a negative for corporate profit margins and/or an additional sales tax from increased prices for consumers.
Additional harm could result if US tariffs sets off a global trade war as tariffed countries retaliate by imposing tariffs of goods the US exports to their country. At the least, this is likely to escalate trade tensions with our global trading partners. Below is a chart of the largest importers of steel to the US: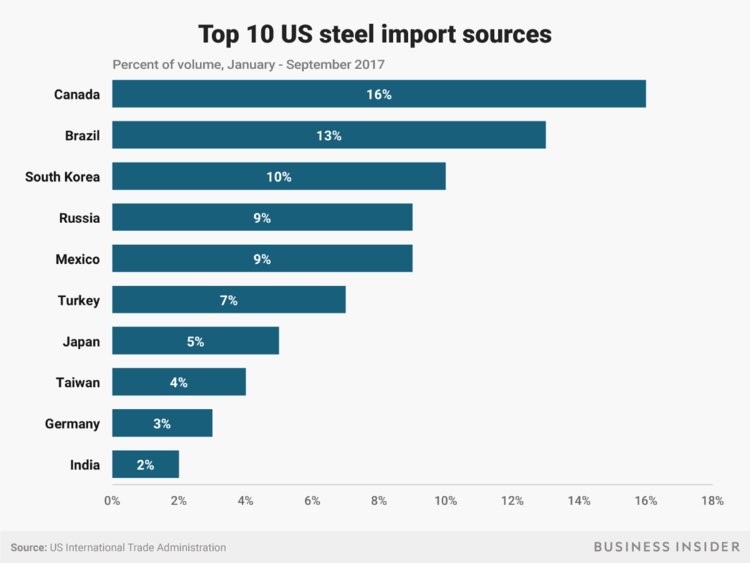 Mitigating this is the fact that the amount of steel produced in the US is far greater than the amount we import. See chart below: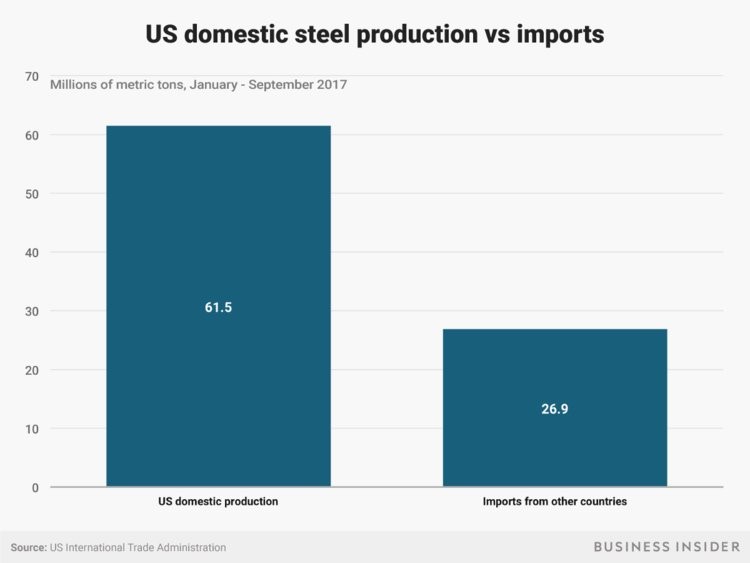 Currently the tariffs are only on steel and aluminum. And the administration is already creating exemptions for Canada and Mexico from the tariffs, while other countries who are allies to the US can file for exemption. Many of the final details remain unknown, but if this is the extent of the tariffs, the impact on the economy and the stock market should be minimal. As further details on the US tariffs and retaliatory tariffs put on US goods emerge we need to closely analyze their effects.
Regardless of the extent of the current tariffs, any policy that detracts from free global trade is not going to be received well from investors. Wall Street will always be concerned about government policies that have the potential to raise costs for corporations, increase prices for consumers and slow the economy.
To expand on these Market Reflections or to discuss any of our investment portfolios, please do not hesitate to reach out to us at 775-674-2222.