Last year international stock markets finally woke up after several years of underperforming their US counterparts. In 2017, both the emerging markets and the international developed market indices outperformed the S&P 500. Most stock market strategists and investors expected this outperformance to continue in 2018. Instead, international markets are down slightly and the US markets are up low single digits. What's happened? Several things have contributed to the pause in performance this year including:
Trade policy concerns as the US and its trading partners propose new tariffs against each other
A strong dollar, which is a headwind for international stocks
European economic growth concerns if Italy leaves the Eurozone
US corporate profits have received a one-time boost due to tax reform while European profit growth has underwhelmed
The question is are these temporary issues for international markets or are they secular. In our opinion, the challenges are more short term in nature and we see opportunity in the international stock markets. Why?
We believe the international stock markets are at an earlier stage in their rising corporate earnings cycle and their overall valuations are cheaper. The chart below highlights the price to earnings (PE) multiple of international stocks (blue line) versus US stocks (red line). International stocks are currently about 15-20% cheaper than US stocks.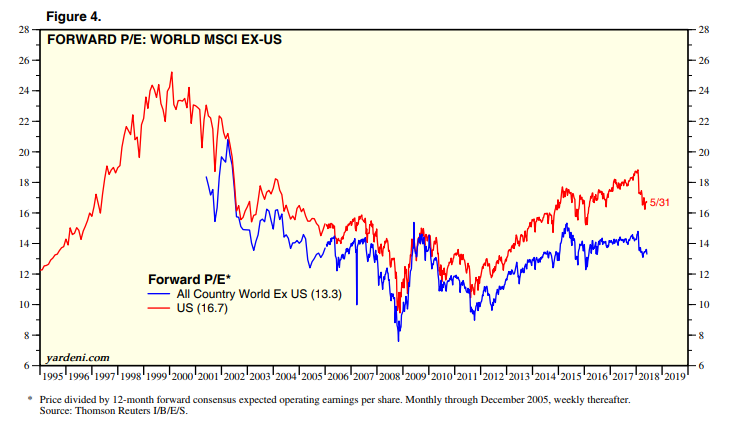 It's always worthwhile to see if others agree with our viewpoints in case we're missing something. We've indeed found that other firms concur with our thoughts on the international markets. For example:
Goldman Sachs Asset Management (GSAM) has a positive outlook on equities overall, but sees the emerging markets as the most attractive. See the table below highlighting the recent upgrade (red box) of emerging market equities: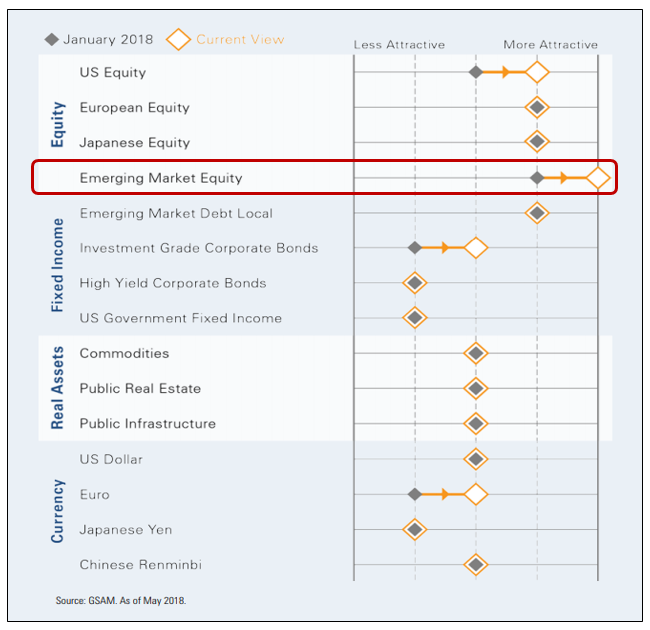 State Street Global Advisors (SSGA) forecasts strong Emerging Market returns (red box) both in the next year and the next 3-5 years. See the bar charts below highlighting forecasted asset class returns: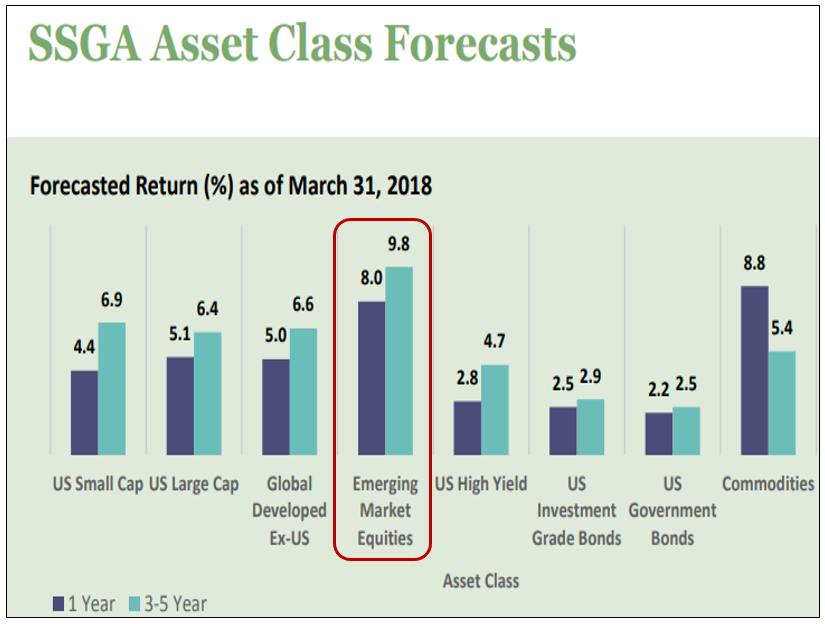 Finally, JP Morgan Asset Management Group recently stated in their Global Equity View 2Q 2018 that
"emerging market equities remain a favorite and Europe is more appealing after recent underperformance."
To summarize, we acknowledge that international stocks have been underwhelming in 2018 thus far. We've seen that in the underperformance of the G40i which is invested in international blue chip companies and also in the GTR which has been invested in the emerging markets. Looking at the back half of 2018 we are constructive on the opportunity in international stock markets, the G40i and the GTR. With healthy international economies and stock markets that are trading at a discount, we like the set up for the rest of the year.
To expand on these Market Reflections or to discuss any of our investment portfolios, please do not hesitate to reach out to us at 775-674-2222.