The stock market has had an extremely strong rally in 2019. In fact, neither the Dow Jones nor the NASDAQ has had a weekly decline this year. Take this with a grain of salt though as the gains are coming off one of the worst Decembers ever in 2018. Look at the 1 year chart below of the S&P 500 which illustrates the late 2018 correction and the 2019 rally: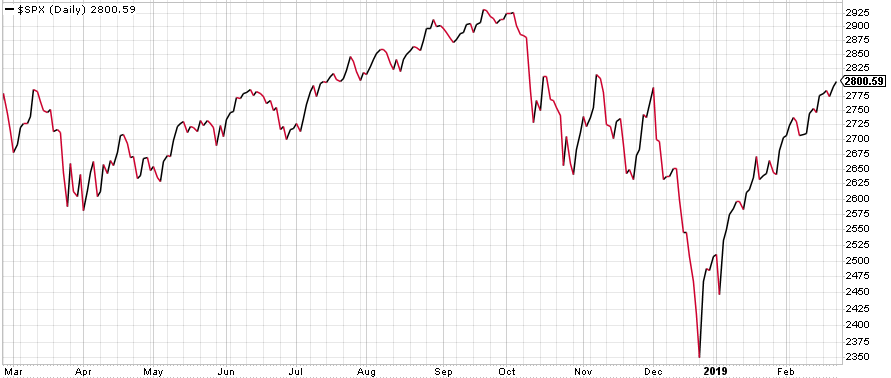 Most of the issues that concerned investors in the correction, now seem to have reversed and are encouraging investors in 2019. These are:
Trade concerns over additional tariffs with China. President Trump said recent meetings between the US and China seem to be showing "substantial progress" towards reaching a resolution.
The Federal Reserve Bank has reversed course. From being aggressive about interest rate hikes back in October, the Fed now says it will be patient with its monetary policy (meaning it will most likely pause interest rate increases and balance sheet reductions)
Following the December-January shutdown, Congress passed a funding resolution to avoid another
Fourth quarter corporate earnings and 2019 guidance have been better than feared
Most US economic reports have remained strong (particularly job growth)
The above items have helped the S&P 500 rally almost 20% from its December lows. The problem is most stocks are in a short-term technically overbought situation. See the chart below highlighting how quickly the S&P 500 has gone from being extremely oversold to overbought: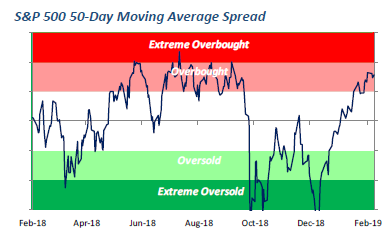 In addition, the following chart illustrates that 73.6% of the individual stocks in the S&P 500 are overbought (red line) and only 3.4% (green line) are oversold: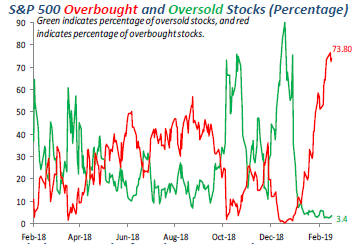 So back to the question of where do we go from here? It wouldn't surprise me to see the market pause (or pull back slightly) as it digests the recent gains. But this does not mean that we'd recommend selling stocks. In fact we are still quite constructive on the outlook for 2019, and feel the market could approach its old highs. In our opinion the US economy, earnings growth, fed policy and stock price valuations are still tailwinds.
To expand on these Market Reflections or to discuss any of our investment portfolios, please do not hesitate to reach out to us at 775-674-2222.