Officially, the current bull market in the US started on March 9th, 2009. That means this week marks its 10th anniversary. A few facts on this bull market are highlighted below*:
The S&P 500 is up 401%
Annualized return has been 17.5%
Earnings growth accounted for 73% of the S&P 500 returns
Price to Earnings (P/E) multiple expansion accounted for 19% of the S&P 500 returns
10 stocks accounted for 25% of the performance over this time, led by Apple
The current bull market will come to an end when the S&P 500 drops 20%+ from a peak to a trough. That hasn't happened yet, but came close to it twice:
in mid-2011 when the S&P dropped 19.4% from its high
in the last quarter of 2018 when the S&P dropped 19.8% from its high
Here at Gradient Investments we repeatedly discuss that the trajectory of corporate earnings is the biggest driver of stock prices over time. I think the current bull market endorses this. S&P 500 earnings grew from $67 in 2009 to $161 today. This has accounted for nearly 73% of the gain in the S&P 500. On top of this, P/E multiples have risen from 10 times to 16 times, aided by the low interest rates we've had for the last 10 years.
The point is, if you find good companies cheap that you believe will display good earnings growth going forward, you'll most likely do quite well. Below is a list of the top ten stocks that contributed to the performance of the S&P 500 the last 10 years (percentage point contribution is boxed in green):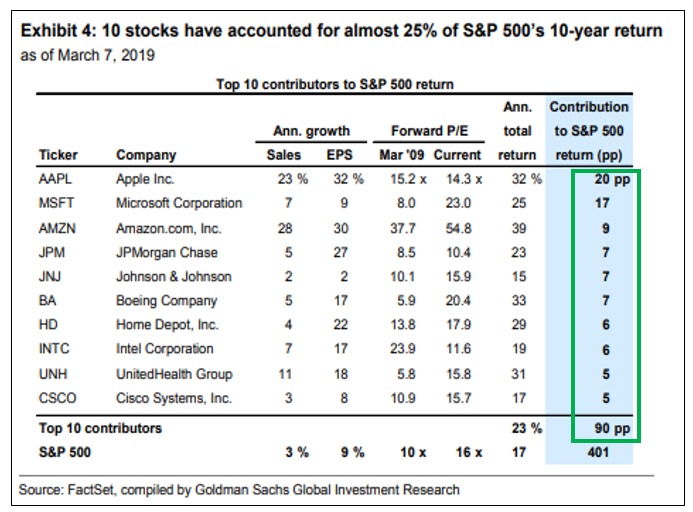 Most market watchers believe the bull market started in March of 2009 and technically they are correct. But in my opinion the real bull market didn't start until mid-2013, making this current bull market only about 5 and a half years old. The period between March of 2009 and mid-2013 the market was making up for the losses it experienced during the financial crisis. See the chart of the S&P 500 below: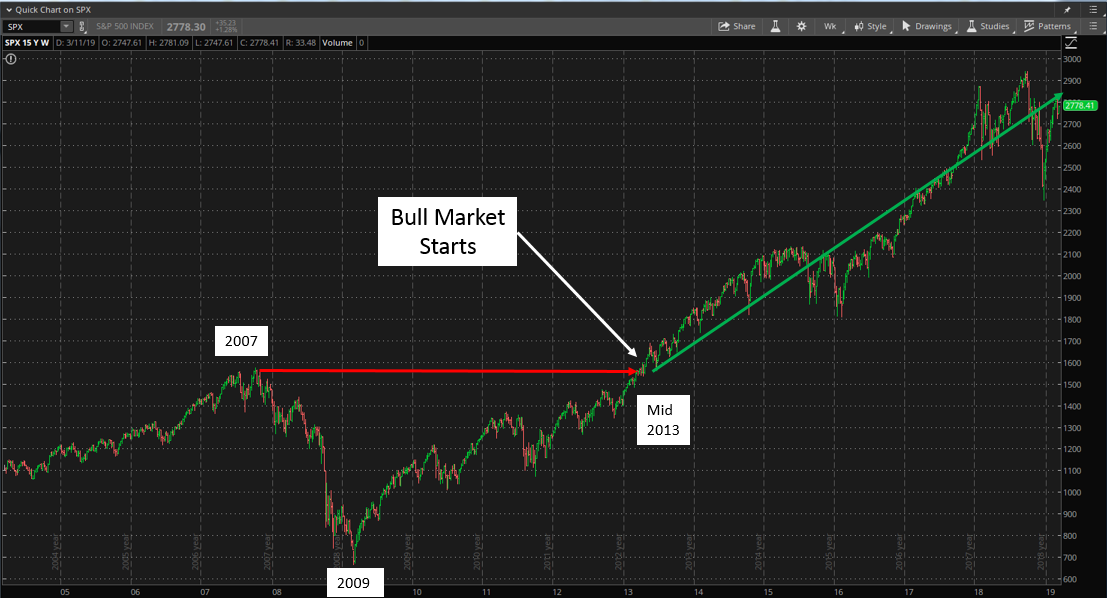 Regardless of when you think the bull market started, a better question is how long will it last? That of course will depend on how the fundamentals (the economy, earnings growth, valuation) are doing. Currently, it is our opinion that the US economy is still strong, earnings are forecast to grow mid-single digits in each of the next couple of years and valuations are reasonable. Until that changes we are still constructive on the US stock market.
To expand on these Market Reflections or to discuss any of our investment portfolios, please do not hesitate to reach out to us at 775-674-2222.