Thus far, 2019 has been a very strong year for stocks.  Year-to-date, the S&P 500 is up over 15% and international stocks are also up more than 10%.  While this has been a strong market in general, and many of the sectors have participated in the upside, the Health Care sector performance has lagged significantly.  Below is a chart that shows S&P 500 performance by sector year-to-date. *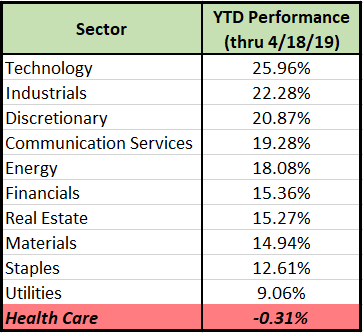 While Health Care has lagged all year, the weakness in the sector's stocks has accelerated in the last few weeks.  The below chart, from Bespoke Investment Group, show that Health Care has diverged significantly from nearly all other sectors in the market.  Per Bespoke research, this type of occurrence is rare.  Since the early 1980's, there have been only 10 other periods where one sector has traded at oversold conditions while all other sectors were overbought.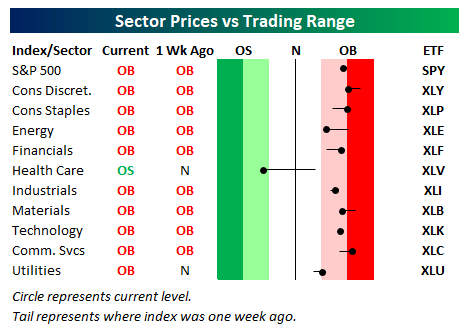 The primary concern in the Health Care sector has been political rather than fundamental.  Currently, there are a few widely-discussed initiatives that could have negative implications for Health Care companies.  Those include:
Medicare For All – a proposal that would cause significant changes to our current health insurance system
Drug pricing regulation – it has been suggested that this is one of the few bi-partisan issues which could see legislation that could be passed
Neither of the above initiatives have definitive policy or any clear mandate as of now but Health Care stocks have reacted, nonetheless.  Whether these initiatives ever see full-fledged enactment, and what the ramifications will be for Health Care companies, will have a large influence on their future performance.
*Source: Stockcharts.com
To expand on these Market Reflections or to discuss any of our investment portfolios, please do not hesitate to reach out to us at 775-674-2222.